Day trips from Barcelona volume 1: wine region of Penedes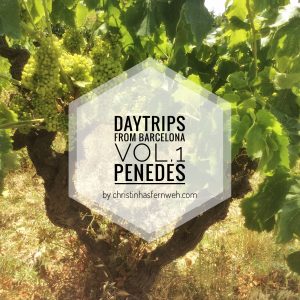 grapes on the vines in Penedes near Barcelona
As my current base is Barcelona, I thought I´d give you some tips on where to go for daytrips and weekend trips from here. Let´s start with the most recent day trip I took with my two lovely neighbors: Sant Sadurni d´Anoia in Penedes, the cava capitol.
The girls were thinking about a fun day out, with lots of bubbly and some change of scenery. So a little after 10 last Saturday and with on the go bocadillos from Balboa for breakfast we got on the train at Estacio de Franca, arguably Barcelona´s most beautiful train station. We changed at Sants to board the train towards Vilafranca de Penedes.
Sant Sadurni d'Anoia
The train ride takes you through the rolling hills of the wine country. You will be crossing rivers and valleys for about an hour before stopping in Sant Sadurni. After a brief walk past Freixenet we crossed the bridge into town. At a little local shop we marvelled at the merchandise the likes of which we had not seen anywhere in Barcelona, handpicked items. As we later found out, it all started with selling baskets and after a remodel the scope was expanded to jewellery, clothes, décor and collectables.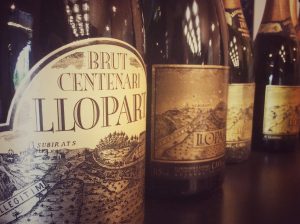 Llopart
We took a taxi up the mountain to Caves Llopart . The chatty driver was in the mood for arguing about how good grapes from old vines are. Since we called ahead, they were expecting us already and 3 glasses were set for each of us around the large wooden table in the middle of the Bodega. We tasted Rosés and two different cavas while learning about the 800 year history of the property and cellar. They had believed it was from the 18th century. Then, one day, during a renovation they discovered an old chest. It held a document dating back to the thirteen hundreds mentioning the family name and wine.
Esteve i Gibert
From there it was a short walk along the vines and olive trees to Celler Esteve i Gibert. A family winery if ever there was one. The owner came and opened the doors for us, so that we could sit in his little Bodega. There we were around a round table made out of a vine and glass top in front of the open French windows. Overlooking his grounds down the valley and all the way to Montserrat in the distance.
He grows a grape variety that is almost extinct, only he and one other wine maker nearby still have it. The grape is Sumoll – hard to compare to anything. It makes for full bodied and complex wine, with earthy and woody notes. However, you cannot buy his wine in stores. Instead, you have to go there or find a restaurant he delivers to.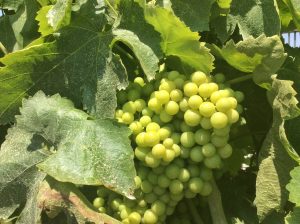 Local Food
Kind man as he is, he actually drove us to a local restaurant for lunch in his Volvo so we wouldn´t need to call the taxi back. So we had a late but delicious meal at Cal Pere del Maset, a rather upscale place serving Catalan cuisine, it is featured in the Michelin Guide. The food was outstanding and our waitress the third amazingly kind person we met that day.
She offered to drive us to the train station after the end of her shift! Can you believe this?
So we waited outside under a tree until she had finished and gratefully accepted her offer. The cold air in the car put us a happy tired mood that lasted all the way home.
I would love to hear about the last random act of kindness you experienced. What was it? Comment below!