Walk on a glacier
One of the activities that is included on the National Geographic Journey by G Adventures of the Canadian Rockies National Parks is the Ice Walk on the Athabasca Glacier.
It's one of the most accessible glaciers in the world. Literally next to the Highway 93, the Icefield Parkway.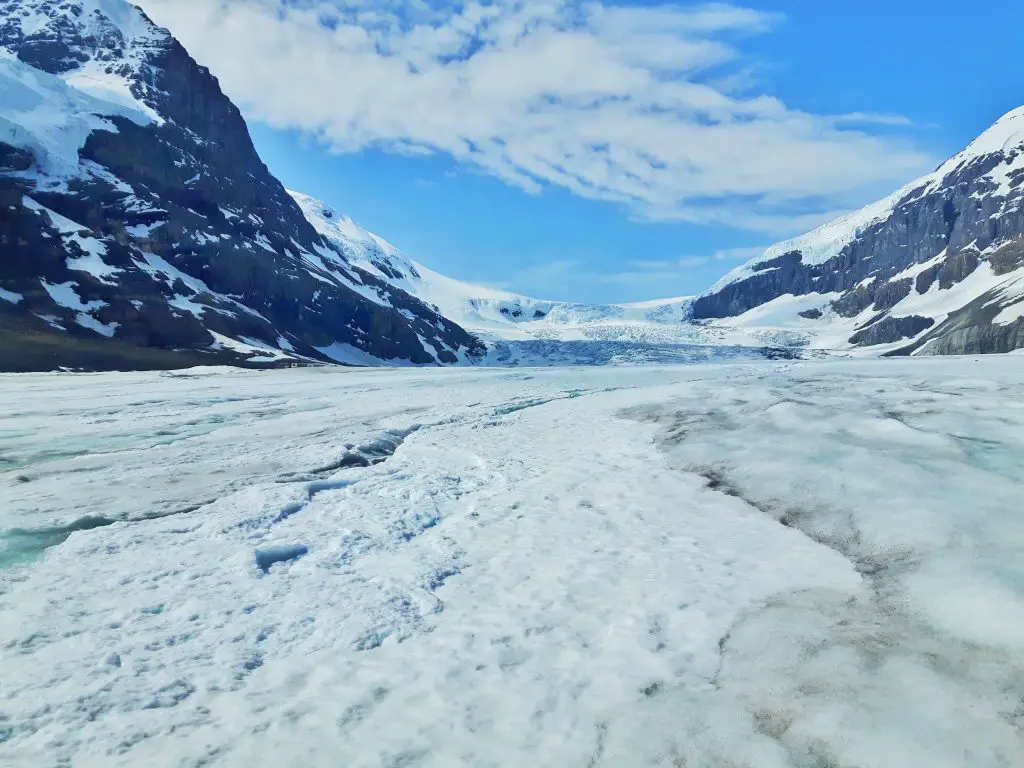 There is a visitor center offering coach tours up to the glacier, a museum with a movie about the glacier, restaurant and on the other side of the street, the ice walk. 
Why go on the Ice Walk
Taste and touch glacier ice and water. Walk on one of the six glaciers of the Columbia Icefield. And do it while you can. In a few years, it will have molten away. It already shrinks by 10m a year. You will go with a professional guide who is very knowledgeable about the glacier and will keep you safe.
Related (for travelers to the US American side of the border through the Rockies): best hikes in Glacier National Park 
What to expect
You'll be hiking in small groups behind a trained guide up for about 1.5h. There will be plenty of interpretive stops along the way. This way you get to catch your breath and learn from your guide. The first bit in rocky, through the moraines. That is also the steepest part. So, if you can do that, you can do the rest. Then you go onto the ice. It is an incline, but not very steep. About halfway up the glacier is the highest point of the Ice Walk, then you'll turn around and retrace your steps.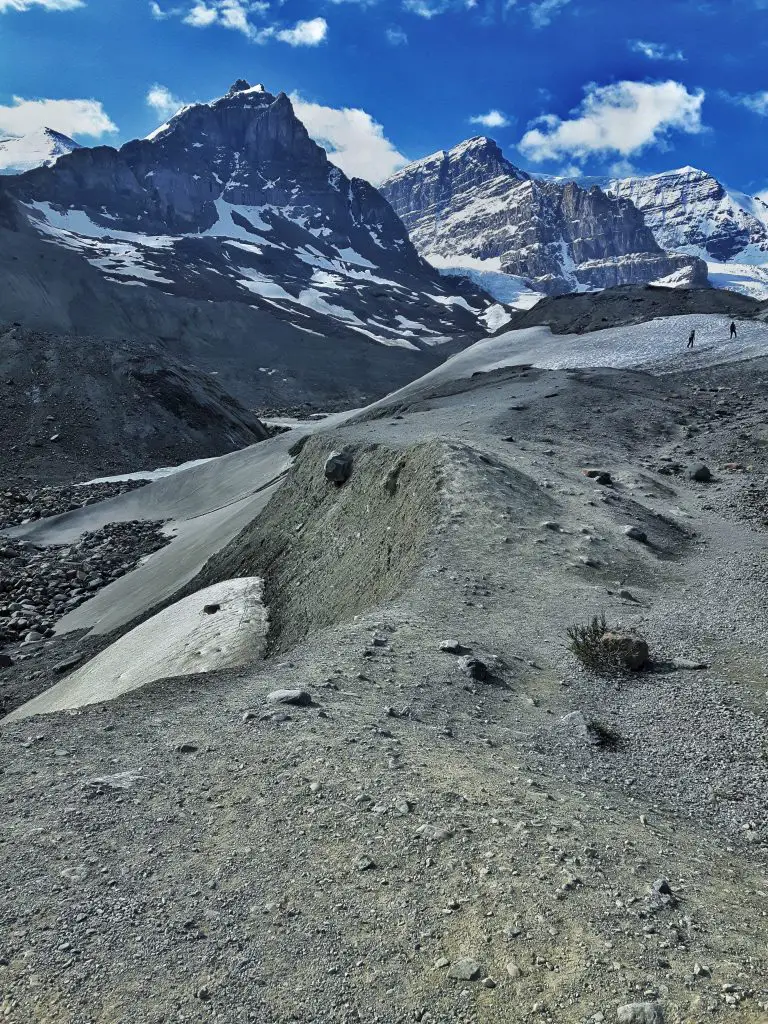 What to bring on the Ice Walk
The guide will outfit you with hiking boots, gloves, a hat, extra layers and crampons (spikes) if you need them. So all you really need is your camera. But of course you can wear your own if you prefer not to borrow their stuff. If you need hiking poles, bring yours as their supply is limited. Put sunscreen on that morning, because ice reflects the sun. Bring water, so you can stay hydrated. You'll dehydrate quicker at high altitudes.
How to get to the Icefield Center
On the Icefield Parkway between Lake Louise and Jasper, take the exit to the Icefield Center. It is roughly in the middle between the two towns. The Ice Walk starts not at the visitor center, but from the parking lot on the other side of the street, closest to the glacier. 
You may feel small compared to the forces of the ice age. It will put things in perspective. You will learn how important these glaciers are for the freshwater supply in Canada. It may make you think.