The truth about seeing wildlife in the Canadian Rockies
The chance to see wildlife in the Canadian Rockies is one of the main attractions to visitors here. In the past 3 months I drove about 15 000 km, that's just under 10 000 miles, on the roads in the Canadian Rockies. These are the animals you can expect to see there, in order of frequency I saw them.
Elk
Herds and herds of elk! Especially in Banff and Jasper. They walk across campgrounds, picnic sites, and graze on the side of the road.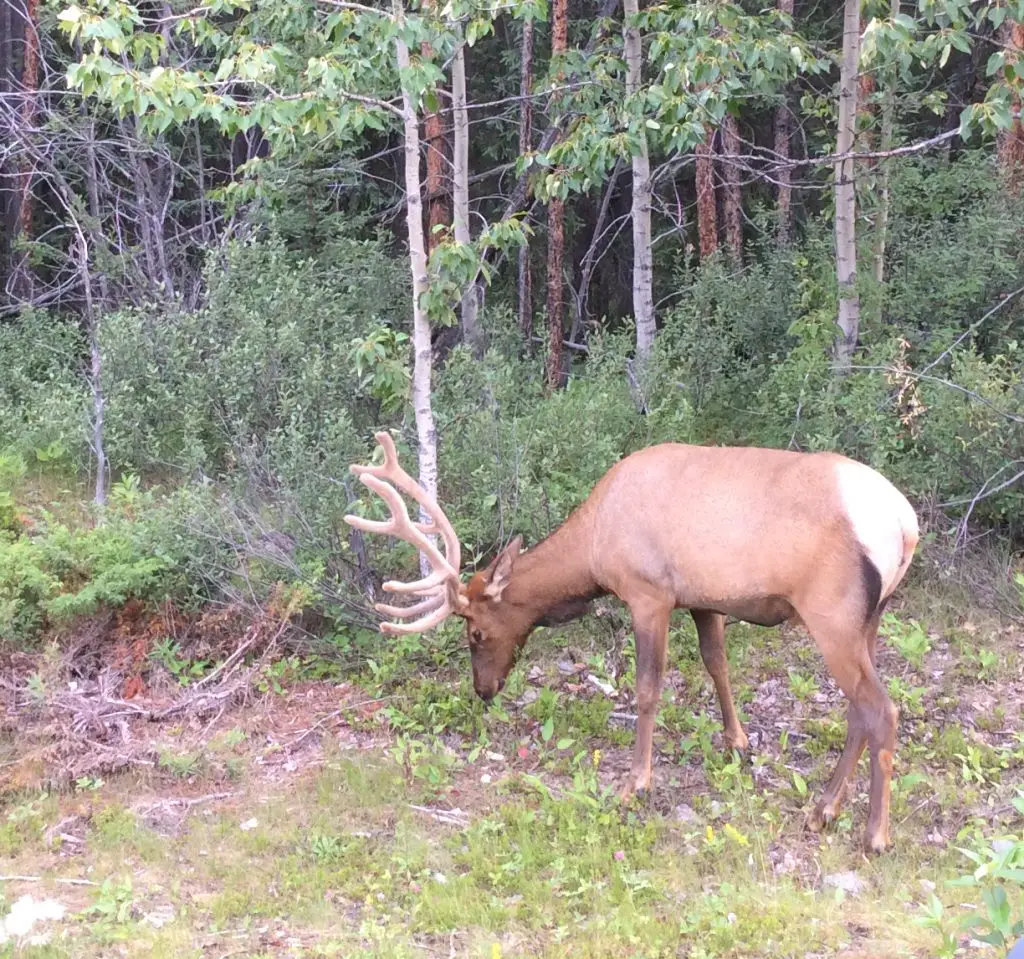 Black bears
In the early summers they come down to the valleys, when the snow melted and vegetation grows higher up in the mountains, they also move up. I've seen several momma bears with cubs and lone bears on the side of the highway or even crossing the highway in front of my van a few times! Seen in the National parks and in Mount Robson park.
Deer
Mule deer and white tail deer are the ones I saw the most. Usually just one at a time, they'll cross the road in front of you. White tail deer is particularly skittish. Only when they raise their tale do you see the white bum. Mule deer have huge ears, like donkeys. 
Bighorn sheep
When driving from Jasper to Miette on highway 16 and in Miette itself we saw bighorn sheep a lot.  There is a cliff across from Jasper lake that is home to flocks of them and mountain goats – chances are best there.
Eagles
Look, I'm not a bird person. But I have to admit these bald eagles are beautiful creatures. There is a nest on Medicine lake in Jasper National park. But many times we saw them just when looking into the sky.
Mountain goats
Mountain goats are wildlife that is harder to spot because they hide so well up on the cliffs. It's amazing what narrow ledges they can stand on! They kinda look like sheep but have black horns that don't curve like the bighorn sheeps' ones do.
Grizzly bears
This is the kind of wildlife in the Canadian Rockies people come to see. Yet, I only saw two grizzlies this summer. Both on the side of the road. Causing enormous bear jams. When you see a lot of cars pulling over and putting their flashers on in the National Parks it means there is an animal.
Moose
Only once did we see Moose. And even then only because we had a very attentive spotter in the passenger seat. This was on Maligne Lake road between Medicine lake and Maligne lake.  They never came out of the forest, so I don't have nice pictures of the moose I saw in the Canadian Rockies.
Let's see what Eastern Canada brings! I am off to the East Coast now. Will let you know what I see and hear 🙂